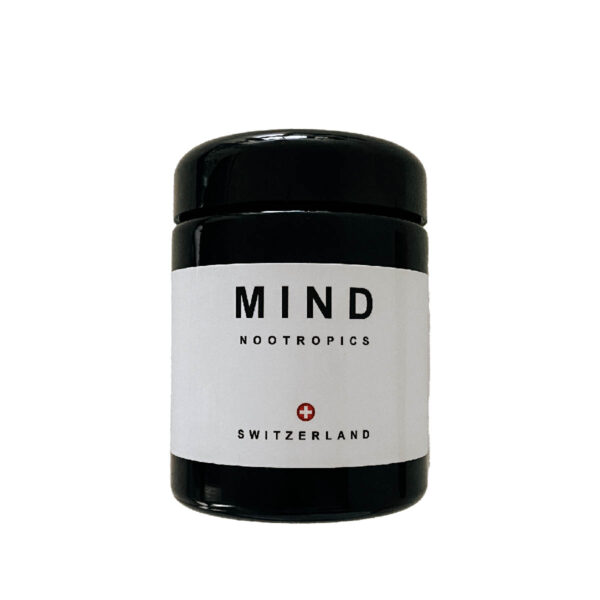 MIND Nootropics
CHF120.00
The Ultimate Non-Synthetic Brain Supplement.
Science Based Cognitive Enhancer and Neuro Protector.
Engineered and designed in Switzerland.
120 vegan caps.
Recommended intake: 4 capsules daily – 5 days / week.
If you are pregnant, breastfeeding, taking any medication, under medical treatment or intolerant to any of the compounds, please consult your doctor or a healthcare professional before use.
MIND should not be used as substitute for a healthy lifestyle and a varied, balanced diet.
This product is suitable for vegans and vegetarians.
Free from wheat, lactose, added sugars, preservatives, colorings and yeast.
HPMC vegan capsules.
Our pledge for a sustainable future. Trully Envinronmental Responsible: Free from plastics or unecessary packaging materials.
In stock
Description
| | | |
| --- | --- | --- |
| Supplement facts: | 120caps / 30 srv. | |
| ACTIVE INGREDIENTS: | 3000+ mg / srv. | |
| | | %DV |
| Bacopa Monnieri Extract | 200 mg | – |
| Organic Ashwagandha Powder | 100 mg | – |
| Lion`s Mane Extract | 500mg | – |
| Citicholine | 250 mg | – |
| L – Theanine | 200 mg | – |
| L – Thyrosine | 500 mg | – |
| Phasphatidyl L – Serine | 100 mg | – |
| Rhodiola Rosea | 200 mg | – |
| L – Carnitine | 500 mg | 25 |
| Taurine | 300 mg | 30 |
| Mucuna Pruriens Extract | 100 mg | – |
| Vit. B3 Nicotinamide | 10 mg | 30 |
| Vit. B5 D- Calcium Pantothenate | 50 mg | 278 |
| Vit. B6 Pyridoxine HCI | 20 mg | 400 |
| Vit. B 12 Cyanocobalamin | 1 mg | 4000 |
| Vit. D3 100.000 UI/g | 40 mg | 400 |